Residential and Hard-To-Reach Energy Efficiency Program (Standard Offer Program)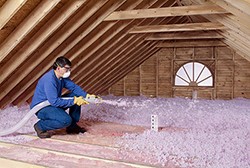 The
Residential Standard Offer Program (RSOP)
and
Hard-To-Reach Standard Offer Program (HTR)
offers incentives to a wide range of contractors, service companies, community agencies and other organizations for the installation of energy efficiency retrofit projects with in the CenterPoint Energy electric territory. The Hard-To-Reach Standard Offer Program specifically targets households with incomes at or below 200% of the Federal Poverty Guidelines. CenterPoint Energy Houston Electric is charged with the responsibility to administer this program by the Public Utility Commission of Texas.
The program was developed to achieve cost-effective reduction in peak demand on the electric grid and is designed to be simple and beneficial for all parties involved. Incentives are paid to contractors for the installation of specified energy efficiency measures. CenterPoint pays a fixed price for each kW and kWh of savings produced by these installed measures.
Important note:
CenterPoint Energy Houston Electric is not a party to the agreement between the participating customer and their Sponsor, and the Sponsor is solely responsible for the performance of the work and contract fulfillment.
This is not a direct-to-customer program
. Funding provided by CenterPoint Energy for this program is approved by the Public Utility Commission of Texas in support of statewide energy efficiency efforts.
Please contact Kenya or Roxanne below if you have interest in registering as a Project Sponsor in the Residential Standard Offer Program
Services Provided
- A project can cover a wide array of eligible energy efficiency measures. Examples include:
Increase the insulation levels in the ceiling, wall, or floor.
Install energy efficient windows.
Repair or replace the air conditioning duct system.
Replace existing air conditioning system with a high efficiency system.
Upgrade existing appliances to efficient appliances, such as water heaters, refrigerators, and dishwashers.
Weatherize the home to reduce the loss of cool or heated air.
Solar PV installations
Participating Project Sponsor Responsibilities
Register with CenterPoint Energy to receive approval to participate in the RSOP (Click here to register if you have not already)
Verify that customers reside in the CenterPoint Energy Electric territory
[HTR only] Verify that customers net income is at or below 200% of the Federal Poverty Guidelines
Enter into an agreement with the customer that will outline the work to be done.
Submit all relevant information into the database in a timely manner
Abide by all regulations listed in the Program Manual
Participating Customer Responsibilities
Contact a participating Project Sponsor.
Discuss the available services and how they will make your home more efficient.
Enter into an agreement with the Sponsor that will outline the work to be done.
For verification purposes, if CenterPoint Energy contacts you, provide access to the residence or business for an inspection of the Sponsor's work.
Remember, you will be solely responsible for any agreed upon payment between you and your Sponsor
Program Eligibility
Customer must be within the CenterPoint Energy electric distribution territory. Single family homes built after January 2002 and/or were involved in ENERGY STAR® certification are ineligible for envelope measures. Multifamily properties are eligible if the residences are individually metered. Multifamily project applications must be reviewed and approved by CenterPoint Energy before the installation of any measures may begin.
Program Contacts
Kenya West
Energy Efficiency Program Manager
Kenya.West@CenterPointEnergy.com
(713) 207-4211
Roxanne McFarland
Program Administrator
Roxanne.McFarland@CenterPointEnergy.com
(713) 207-3511
Sponsor Resources
Customer Agreement Form
2022 SOP Kickoff Presentation
Sponsor Resources (RSOP Only)
2022 RSOP Summary
2022 RSOP Manual
RSOP Fact Sheet
Sponsor Resources (HTR Only)
2022 HTR Summary
2022 HTR Manual
Self-Certification Form
Geo-Location Verification Tool